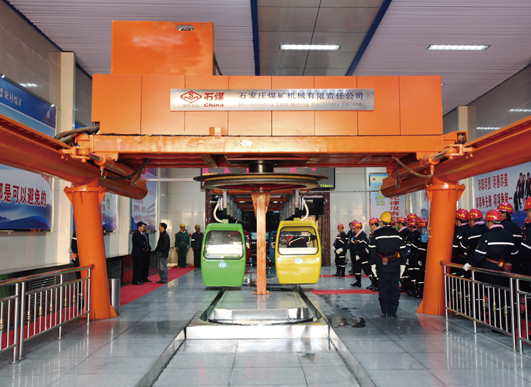 Safety and comfortable cab riding transport system is to improve the comfort and safety of underground workers, applying the technology of sightseeing cable car, newly developed person transport device used in the underground coal mine, the device is the first set of security comfort Overhead transport device based on the "people-oriented" design concept, make the going down or up is as comfortable as a tourism. The transport device was put into used in Geng Cui coal mine in Henan Yima Coal Industry Group CCTV News Network made a special report about it. The applicable gradient is 0-35 °, the maximum traction is 4060kg, maximum speed is 1.2m / s, the transport capacity is 576 persons / h,with the following characteristics:
● comfort and safety;
● hydraulic tensioning device, with the special hydraulic pump station for tensioning cylinder and accumulator group;
● the cab (for single or double person) is pretty, and avoid the crew directly exposed in the roadway wind.
●cab guide device are set in the swivel wheel or the aboard or off part to prevent the vibration of the cabin.
● the system is equipped with full-way monitoring device, the real time operating room monitoring and remote monitoring can be achieved.
● the mono support rope-return station, structure simple, easy installation, take small space.