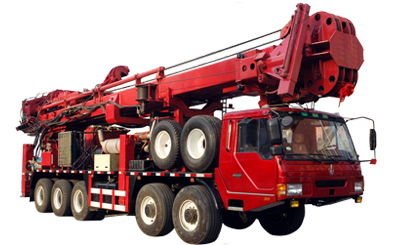 Truck-mounted Drilling Rig
SMJ series truck-mounted drilling rig is a kind of machine which mount the hydraulic head driven rotary head drilling rig to a truck chassis. It can be compressed air drilling, foam drilling or mud drilling. It is with the characteristics such as good mobility, high efficiency, good quality, low pollution, etc. It can be used to drill holes for gas extraction, shallow oil or hydro-construction as well as mine rescue drilling construction.
1) High drilling efficiency, the average drilling speed is up to 20m / h
2) It can be used to drill vertical wells, horizontal wells, cluster wells, and branch wells.
3) Good mobility, can reach the working site quickly.
4) Low requirement for the working conditions, can start operation quickly.
5) Can drill with compressed air, foam, or mud pump
6) Big hoisting capacity, it is up to 1000kN, the max. torque is up to 25kN.m.
7) The rotary head can tilt, can change the drilling rod easily.

Type

SMJ5510TZJ15/800Y

SMJ5540TZJ25/1000Y

Truck chasis from SANJIAN SPACE ESTATE

Model

WS5545

Driving mode

10×6

Gear shifts

9drive,1reverse

Max.speed

70km/h

Engine power

276kw/2200r/min

Weight

17550kg

Max.hoisting force

800kN

1000kN

Max.feeding force

180kN

Rapid hoisting speed

30m/min

Rapid lowering speed

59m/min

60m/min

Slow feeding speed

7.1m/min

6m/min

Rotary head

Max.output torque

15kN.m

25kN.m

Output speed

0-150r/min

0-90 、0-180r/min

Mainshaft dia.

Φ76mm

Stroke

15m

14m

Drilling depth

Standard drilling rod model

Φ114

Rotating drilling

1500m

2000m

Max.hole dia.

Φ711mm

Φ770mm

Combined pumps of hydraulic system

32MPa4+4+1

32Mpa3+3+3+1

Compressed air/mud lines

Dia.

Φ76.2mm

Nominal working pressure

20MPa

Auxilary winch

Jib boom stroke

1m

Hoisting weight(retracted)

38kN

Hoisting weight(extended)

20kN

Hydraulic system pressure

Rotary head rotating system

25MPa

Normal drilling system

24MPa

Fast hoisting system

32MPa

Rig engine from CUMMINS

Model

QSX15-600

Power

447kW

Speed

2100r/min

Total weight

51000kg

54000kg

Dimensions(Transportation) L×W×H

13.7×2.85×4.19m

14.28×2.85×4.2m

Air compressor from Sullair of U.S.A.

Model

1150XHH/1350XH(A)

Flow

32/38m3/min

Discharge pressure

3.45/2.4MPa

Engine from CATERPILLAR

C18ATAAC

Nominal input power

470kW

Dimensions(transportation) L×W×H

4613×2184×2278mm

Weight

5897kg