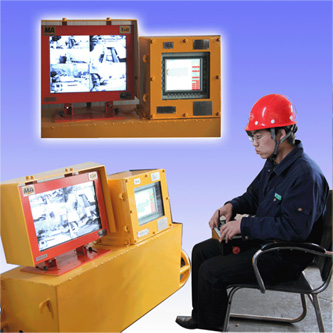 Distance Visible Remote Control

The remote control system independently developed for long distance developed by Shijiazhuang Coal Mining Machinery Co., Ltd. is applied on the EBZ160 Road Header, which gives the road header a "telescope" to make the workers, can be away from the working site precedent.
electrical shop on the 160 boring machine, boring machine has a "telescope" to unprecedented away from the face of the coal mine staff.
In this road header with a telescope, installed work parameter record system and seven sets of image acquisition system, the working parameters and Video signals got from different angles about cutting, loading, traveling will be transmit to the monitoring panel via CAN-BUS. In addition, the system has a remote control function, short-range and remote automatic switching function can be achieved, and has a margin indicator function and automatic alarm function, so that the operator can be away from the working seam, ensure the personal safety, push the mechanized mining level to a new position.