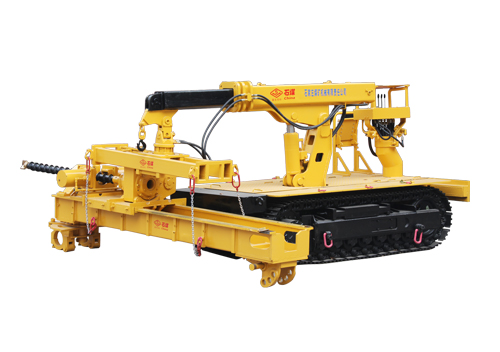 It is mainly used in the hole drilling of gas drainage in the coal with the hardness is less than 1.5. It can solve the problem of hole wall collapse, gas blowout, drill pipe sticking, drilling pipe holding or other unuarally drilling.
It is with the following features:
Fully hydraulic pole structure , includes four parts drilling rig, pump stations, crawler crane, operation panel, easy to go down and long distance transport.
With three pillars (national patent), the pillars are with a mechanical self -compensation function to stablilize the body, reliable support, cross belt work can be achieved.
Tracked self-propelled crane used to move the drilling rig and pump station, and reduce labor intensity and improve the efficiency of transition, you can slso do other auxiliary lifting operations.
Main hudraulic system with load sensing control system, low energy consumption, less heat; multi-way valve with pilot proportional control, lightweight, flexible, easy stepless control of drilling rigs; drilling system with anti-sticking(national patent), to reduce accidents hole; output and speed can be stepless adjustment according to the site needs.
Pump, valve, motor, traveling motor as well as the cooler are from the international brand, good reliability.
Spiral drill pipe drilling, the maximum speed can reach 600r/min.
When drilling hold or sticking, it can be reversed.
Description

Unit

Value

machine

Nomial torque

N.m

1900

nominal rotation speed

r/min

200

Max. rotation speed

r/min

600

Weight

kg

2186

mm

Drilling Dia.

mm

Noise

dB(A)

Bracket

Max. propelling force

kN

60

Max. Pulling force

kN

100

Propelling stroke

mm

1800

Feeding speed with no load

mm/min

Returning speed

mm/min

Power pack

Nominal power of motor

kW

75

Nominal voltage of power

V

660/1140

mm

Weight

kg

1850

Traveling

speed

Trevelling speed

m/min

14

Inclination ability

mm

weight

kg

6873

Hoisting

device

Lifting load at the biggest boom

kN

18

Boom stroke

mm

1200

Boom swing angel

200