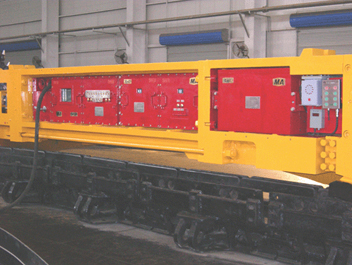 Electronic Control System of MG1130 Shears
Introduction:
The electronic control system is a important part of the AC frequency control electric shear. It consists of control box, transformer box and inverter box, The system applies a programmable controller, the Chinese LCD, Direct Torque (DTC), four-quadrant frequency control and signal transmission technology, control two cutting motor, two traction motor and a pump motor running state, which makes the shear has good control and protection performance, easy to operate and reliable.The speed control system uses a "one run one", that is, two four-quadrant inverter tracts two traction motor respectively, improve the control accuracy of the system. The traction motor can run as a motor or generator in I, II, III, IV-quadrant, run as the motor In I, III and as a generator in the Ⅱ and Ⅳ quadrant (regenerative braking), broadening the working scope of shearer on longwall face. The electrical control system uses a centralized computer control, Chinese LCD system with functions such as protection, operation and fault indication and fault self-diagnosis memory, constant power cut, etc.

Working conditions:
(1)ambient temperature:-5℃~+40℃;
(2)place away from dropping water
(3)Air pressure: 80kPa~110 kPa;
(4)Relative humidity:≤95%( +25℃);
(5) without gas which damage insulation or steam
(6) The tilt angle of mounting is not more than 16°
(7) Underground coal mine with gas or coal dust.
| | | | | |
| --- | --- | --- | --- | --- |
| | | | | |
| Electronic control box type | | | | |
| | | | | |
| | | | | |
| Speed adjusting control box type | | | | |
| | | | | |
| | | | | |
| Traction transformer box type | | | | |
| | | | | |
| | | | | |