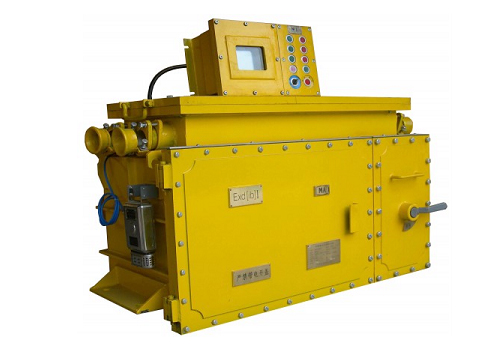 Control System of EBZ100\135 Road Header
(EBZ135、EBZ100)
KXJ1-135/1140E mining flameproof and intrinsically safe electrical control box is the core of the electronic system of EBZ135 and EBZ100 road header, it is mainly responsible to keep the oil pump motor and the system to work normally, including motor start and stop operation and protection when overload, phase failure, short circuit, leakage, etc.
The entire electronic control system is mainly made from KXJ1-135/1140E explosion-proof and Intrinsically Safe control box and CXJ2-24E explosion-proof and Intrinsically Safe operating box, besides it also includes gas sensor, explosion-proof bell, the mining explosion-proof lamps. explosion-proof emergency stop button. The main components of the electronic control system is from famous international brand, such as Mitsubishi PLC and Japan's Fuji 5.7-inch color LCD touch screen, the executive unit is Siemens vacuum contactor, system control and protection is carried by software, which greatly improved security and reliability, to avoid the problems such ad high failure rate, easy damage and fault mistake report aroused by common product. The system uses a large-screen LCD screen, the motor running and system failures can be found very easily, which greatly improves the electrical system operability and maintainability; perfect self-diagnostic function, display the fault clearly and accurately provides a perfect guarantee for equipment maintenance.
The main elements is from imported brand, such as key control unit is the system structure is compact, small footprint, easy maintenance, and can be equipped with explosion-proof lighting (light emitting diode LED) which is independently developed by Shijiazhuang Coal Mining Machinery Co., Ltd. with high luminous efficiency (which is eight times that of incandescent), long life (5-10 million hours), good seismic performance, the lighting has applied for national patents.
Suitable working condition:
(1)ambient temperature:-5℃~+40℃;
(2)place away from dropping water
(3)Air pressure: 80kPa~110 kPa;
(4)Relative humidity:≤95%( +25℃);
(5) without gas which damage insulation or steam
(6) The tilt angle of mounting is not more than 16°
(7) Underground coal mine with gas or coal dust.
Type and specification
Electric Control Box
●Type KX J 1—135 / 1140 E
●Kind: flameproof and intrinsically safe, Exd[ib]I.
●Nominal current: 221A;
●Nominal total power of motor: 201KW
●Dimension: 1270×760×540( L×W×H )mm
Electric Operating Box
●Type CX J 2 - 24 E
●Kind: flameproof and intrinsically safe, Exd[ib]I.
●Flameproof cabin DC24V 0.4A, intrinsically cabin DC12V 90mA
●Dimension: 420×290×250( L×W×H )mm