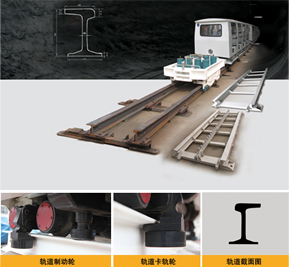 SMJ series Shaped Rail Transport System
SMJ Shaped Rail Transport System
SMJ series shaped track rail transport system
Shaped track rail transport system uses a special type of track structure, completely solved the problems of low reliability and safety of rail transport underground of coal mines, and achieve continuous transportation in a large slope, or with heavy loads, Shaped rail track is first developed and obtained national patents, the technical performance is at the international leading level, won the China Coal Industry Award for scientific progress.
● shaped rail vehicle system can grasp the rail all the time, not slip away, not tipping, brake safe and reliable, especially for inclined transport.
●good braking force, the braking cars is with automatic and manual braking to ensure that vehicles will not slip.
● seamless connection with ordinary track to achieve efficient transport
●ordinary wooden or concrete sleeper, the laying is simple and convenient.
●wide application and big load capacity, long service life.